Dan DeVita is an acoustic rock artist based out of the Saratoga, NY region.
With powerful, technically proficient vocals layered over rock-solid acoustic guitar, and citing influences that range from Andy Mckee to Metallica, Dan's sound is unlike anything else in the region. There are taps, there are slaps--there's even the occasional rap!

Just kidding on that last one…
He can't rap.

After years of gigging and honing his craft, Dan is hitting the studio over the winter months to record his debut solo record.

​The album, "Full Circle", is slated for a 2019 release.


Powered by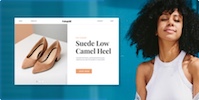 Create your own unique website with customizable templates.